Astrological Aspect of the week
September 2013


Saturday 7th September
Saturday 14th September
Saturday 21st September
Saturday 28th September


Saturday 7th September
Syria passes, news moves to Europe
As the Martian energy gathers and passes, the energy towards Syria comes and goes also. Syria will only take a light pasting, akin to the beating of Private Pile in "Full Metal Jacket", the Platoon used soap and blankets to beat Private Pile, but the outward damage was minimal. As President Obama needs to be seen to take some action, but damage limitation is the key.
Mars will form a square to Saturn on Monday, Inconjunct to Pluto on Wednesday, The most notable will be Thursday when Mars square the Node, broadcasting the world what action has been taken.
So the Markets will require some new news to take the pressure of the will it/won't it taper begin saga.
President Draghi of the ECB may have helped provide the up and coming news developing in Europe on Thursday 5th September. Sending distant memories of the Euro hitting 1.34. This also coincides with a major transit building from Wednesday on the Euro's natal chart ( 01/01/1999) Chiron square Natal Pluto, we only have back to look back to March 2012 through to Sept 2012 to remember what the last transit brought.
Working their way forward in the background is the Node conjuncting Saturn, and Pluto slowly putting on the brakes, ready to rock the commodities for the annual shift.
Full moon, Pluto Stations direct and Kite to fly for the weekend
With so many aspects to choose this week, we shall ignore early week activity, as things really hot up on Thursday, this coincides with Mr Bernanke's much awaited speech on the tapering saga. Full Moon's are renowned for bring deadlocks in stalemates and this Full moon whilst not heavily aspected will bring the News the Markets wants.... The Markets will play the up and down guessing game until Thursday's Full Moon exact at 19.11pm GMT.
Friday bring's the much awaited station of Pluto, Pluto will move forward on Friday at 3.29pm GMT. Pluto has been hard at work unleashing the dark secrets ready to play a dangerous game of Kiss chase with Jupiter and Uranus through to April 2014.
Fortunately Friday also bring a harmonious aspect in the skies with a Half Kite 180 with three of the Key Financial Planets, Venus is her Dark Scorpio outfit, Ceres in meticulous Virgo and Chiron on Pisces, expect the news to taken in a positive light at least this week.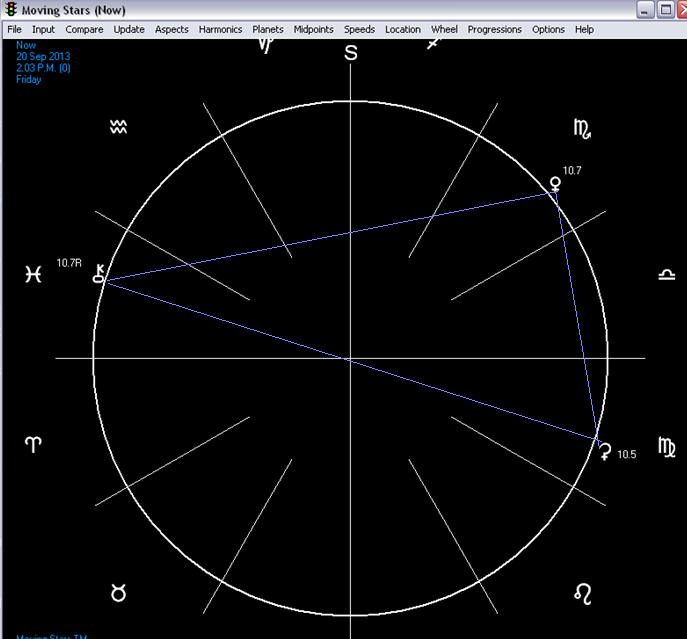 Fall Equinox, Saturn Node and news on the Property Markets
Sunday evening at 9.44pm GMT, The Sun moves into the sign of Libra marking the Fall Equinox, and with less than 95 days to Christmas. The new countdown to tapering will be hot on the minds of most traders. The Feds chart showed up with a Mars trine Mercury aspect last Wednesday, leaving most commodity traders stumped. In hindsight the quantative easing announcement matched the Feds chart. So it will be worth looking at the Feds chart on future announcement dates.
Wednesday brings in the cold chill of restrictive Saturn conjunct the The Node, we would expect most things to warm up after this has become exact.
We will only have to wait until Thursday evening, when Venus in Scorpio makes a harmonious Trine to Jupiter in Cancer. Scorpio in Venus can relate to Investments, Jupiter in Cancer pertains to the Property market and luxurious Home furnishings. So if your not Trading Thursday evening a shopping trip for home furnishing may pay dividends.
all times GMT

| | | | | | |
| --- | --- | --- | --- | --- | --- |
| Saturn | 0 | Node | 25 Sep 2013 12:58 | 9.4 SCO | 9.4 SCO |
| Venus | 51 | Pluto | 26 Sep 2013 14:58 | 17.6 SCO | 9.0 CPR |
| Sun | 120 | Juno | 26 Sep 2013 19:30 | 3.9 LIB | 3.9 AQU |
| Venus | 120 | Jupiter | 26 Sep 2013 21:01 | 17.9 SCO | 17.9 CAN |
T Square points towards the turning point, and Scorpion dark discussions to be returned to!
Early on Wednesday Morning the Sun forms a T Square to Pluto and Uranus, and with Pluto and Uranus now closing in with an orb of less than 1.5 degrees, the shit may start to hit the Fan!. Thrown in for added spice, Venus is in semi square to Pluto and Venus also opposes Sedna.
if that isn't exciting enough, The Euro Natal chart warns to Uranus Squaring The Euro's natal Sun exact on October 5th.
Also on Wednesday Mercury which has just entered the secretive world of Scorpio, where it will remain until December 5th 2013, This will be the 3 retrograde of the year. We highlight Wednesday because this will be the point Mercury returns to on 13th November . So pay attention to issues raised Tue/Wed/Thu, as these will be returned to November 13th, and only resolved, once Mercury turns direct on December 5th 2013.
Times to Watch GMT
| | | | | | |
| --- | --- | --- | --- | --- | --- |
| Transit 1 | Aspect | Transit 2 | Time Exact GMT | Transit 1 | Transit 2 |
| Sun | 90 | Pluto | 02 Oct 2013 01:28 | 9.0 LIB | 9.0 CPR |
| Sun | 30 | Node | 02 Oct 2013 02:52 | 9.1 LIB | 9.1 SCO |
| Venus | 45 | Pluto | 02 Oct 2013 08:50 | 24.0 SCO | 9.0 CPR |
| Venus | 180 | Sedna | 02 Oct 2013 12:47 | 24.2 SCO | 24.2 TAU |
| Sun | 180 | Uranus | 03 Oct 2013 14:12 | 10.5 LIB | 10.5 ARI |
| Venus | 135 | Uranus | 03 Oct 2013 17:05 | 25.5 SCO | 10.5 ARI |
Mercury Retrograde
| | | | | | | |
| --- | --- | --- | --- | --- | --- | --- |
| Natal 1 | Aspect | Natal 2 | Time exact | Natal 1 | Natal 2 | |
| Moon | 60 | Mercury | 02 Oct 2013 01:03 | 3.2 VIR | 3.2 SCO | Mercury shadow phase |
| Moon | 51 | Mercury | 02 Oct 2013 19:00 | 12.7 VIR | 4.1 SCO | |
| Moon | 45 | Mercury | 03 Oct 2013 08:14 | 19.8 VIR | 4.8 SCO | |
| Moon | 30 | Mercury | 04 Oct 2013 14:24 | 6.3 LIB | 6.3 SCO | |
| Moon | 15 | Mercury | 05 Oct 2013 19:40 | 22.7 LIB | 7.7 SCO | |
| Moon | 0 | Mercury | 08 Oct 2013 00:12 | 9.0 SCO | 9.0 SCO | |
| Moon | 15 | Mercury | 08 Oct 2013 04:10 | 25.2 SCO | 10.2 SCO | |
| Moon | 30 | Mercury | 09 Oct 2013 07:43 | 11.4 SAG | 11.4 SCO | |
| Moon | 45 | Mercury | 10 Oct 2013 10:59 | 27.5 SAG | 12.5 SCO | |
| Moon | 51 | Mercury | 10 Oct 2013 22:36 | 4.3 CPR | 12.9 SCO | |
| Moon | 60 | Mercury | 11 Oct 2013 14:03 | 13.5 CPR | 13.5 SCO | |
| Moon | 90 | Mercury | 13 Oct 2013 19:57 | 15.3 AQU | 15.3 SCO | |
| Moon | 102 | Mercury | 14 Oct 2013 19:04 | 28.8 AQU | 16.0 SCO | |
| Moon | 120 | Mercury | 16 Oct 2013 02:04 | 16.8 PIS | 16.8 SCO | |
| Moon | 135 | Mercury | 17 Oct 2013 05:28 | 2.4 ARI | 17.4 SCO | |
| Moon | 150 | Mercury | 18 Oct 2013 09:11 | 17.8 ARI | 17.8 SCO | |
| Moon | 180 | Mercury | 20 Oct 2013 17:52 | 18.4 TAU | 18.4 SCO | Mercury turns retrograde |
| Moon | 150 | Mercury | 23 Oct 2013 03:59 | 18.2 GEM | 18.2 SCO | |
| Moon | 135 | Mercury | 24 Oct 2013 09:13 | 2.8 CAN | 17.8 SCO | |
| Moon | 120 | Mercury | 25 Oct 2013 14:17 | 17.2 CAN | 17.2 SCO | |
| Moon | 102 | Mercury | 26 Oct 2013 22:58 | 3.4 LEO | 16.2 SCO | |
| Moon | 90 | Mercury | 27 Oct 2013 22:56 | 15.4 LEO | 15.4 SCO | |
| Moon | 60 | Mercury | 30 Oct 2013 04:35 | 12.9 VIR | 12.9 SCO | |
| Moon | 51 | Mercury | 30 Oct 2013 19:18 | 20.8 VIR | 12.2 SCO | |
| Moon | 45 | Mercury | 31 Oct 2013 06:10 | 26.6 VIR | 11.6 SCO | |
| Moon | 30 | Mercury | 01 Nov 2013 06:59 | 10.3 LIB | 10.3 SCO | |
| Moon | 15 | Mercury | 02 Nov 2013 07:10 | 24.0 LIB | 9.0 SCO | |
| Moon | 0 | Mercury | 03 Nov 2013 06:51 | 7.7 SCO | 7.7 SCO | |
| Moon | 15 | Mercury | 04 Nov 2013 06:12 | 21.6 SCO | 6.6 SCO | |
| Moon | 30 | Mercury | 05 Nov 2013 05:23 | 5.5 SAG | 5.5 SCO | |
| Moon | 45 | Mercury | 06 Nov 2013 04:36 | 19.6 SAG | 4.6 SCO | |
| Moon | 51 | Mercury | 06 Nov 2013 14:36 | 25.7 SAG | 4.2 SCO | |
| Moon | 60 | Mercury | 07 Nov 2013 04:01 | 3.8 CPR | 3.8 SCO | |
| Moon | 90 | Mercury | 09 Nov 2013 04:09 | 2.8 AQU | 2.8 SCO | |
| Moon | 102 | Mercury | 10 Nov 2013 01:32 | 15.4 AQU | 2.6 SCO | Mercury goes Direct |
| Moon | 120 | Mercury | 11 Nov 2013 06:58 | 2.5 PIS | 2.5 SCO | |
| Moon | 135 | Mercury | 12 Nov 2013 09:39 | 17.7 PIS | 2.7 SCO | |
| Moon | 150 | Mercury | 13 Nov 2013 13:18 | 3.1 ARI | 3.1 SCO | |
| Moon | 180 | Mercury | 15 Nov 2013 23:34 | 4.7 TAU | 4.7 SCO | |
| Moon | 150 | Mercury | 18 Nov 2013 13:53 | 7.1 GEM | 7.1 SCO | |
| Moon | 135 | Mercury | 19 Nov 2013 22:29 | 23.5 GEM | 8.5 SCO | |
| Moon | 120 | Mercury | 21 Nov 2013 07:55 | 10.2 CAN | 10.2 SCO | |
| Moon | 102 | Mercury | 22 Nov 2013 22:46 | 29.4 CAN | 12.3 SCO | |
| Moon | 90 | Mercury | 24 Nov 2013 04:02 | 13.9 LEO | 13.9 SCO | |
| Moon | 60 | Mercury | 26 Nov 2013 22:55 | 17.8 VIR | 17.8 SCO | |
| Moon | 51 | Mercury | 27 Nov 2013 17:18 | 27.5 VIR | 18.9 SCO | |
| Moon | 45 | Mercury | 28 Nov 2013 06:48 | 4.7 LIB | 19.7 SCO | |
| Moon | 30 | Mercury | 29 Nov 2013 13:20 | 21.6 LIB | 21.6 SCO | |
| Moon | 15 | Mercury | 30 Nov 2013 18:33 | 8.4 SCO | 23.4 SCO | |
| Moon | 0 | Mercury | 01 Dec 2013 22:37 | 25.2 SCO | 25.2 SCO | |
| Moon | 15 | Mercury | 03 Dec 2013 01:50 | 11.9 SAG | 26.9 SCO | |
| Moon | 30 | Mercury | 04 Dec 2013 04:35 | 28.6 SAG | 28.6 SCO | |
| Moon | 45 | Mercury | 05 Dec 2013 07:13 | 15.3 CPR | 0.3 SAG | Mercury enters Sagittarius |
| Moon | 51 | Mercury | 05 Dec 2013 18:42 | 22.4 CPR | 1.0 SAG | |